Today's episode takes us halfway across the globe to Egypt! Listen to the playlist here, and listen back to the episode here.  
The Arab Republic of Egypt spans the northeast corner of Africa into the southwest corner of Asia via the Sinai peninsula. Approximately 100 million people live here, making it the 14th most populous country in the world, and the 3rd most populated in Africa. Its official language is Arabic. Egypt has one of the longest histories in the world, as ancient Egypt is considered a cradle of civilization. Egypt had some of the earliest writings, agriculture, urbanization, organized religion, and centralized government, and also some of the first musical instruments and traditions. 
The development of ancient Greek music, and thus the development of early European music, was impacted significantly by Egyptian music. Egypt was dominant in its region for thousands of years and thus influenced its neighbors greatly. Many of the instruments claimed in the Bible to have been played by the ancient Hebrews are Egyptian, as established by archaeologists. 
There's a lot of music to get through here, so we're actually going to skip to the 20th century. 
Sha'abi is a popular working-class music genre established around the 1950s. Sha'abi means "locally popular," and was developed by Sayyid Darwish, a songwriter and composer.
Sha'abi Sample:
Bent El Soltan // Ahmed Adaweya
Classical music took hold in Egypt after European instruments such as the piano and the violin were introduced. Operas and orchestras sprang up, with Egyptian composers soon becoming known worldwide. One of whom is Abu Bakr Kharat, trained as an architect. On the side, he studied music composition, all while continuing his career in architecture. He designed the Academy of Arts complex and the Sayed Darwish Concert Hall. 
Classical Sample:
Abu Bakr Kharat- Egyptian folk suite (mid 20th century) 
Drummer Salah Ragab is credited with starting up Egyptian jazz, as he is the cofounder of Cairo Jazz Band, which he created while in the army. They established swing jazz in the country. 
Jazz sample:
The Crossing // Salah Ragab, The Cairo Jazz Band
Maha was once a vocalist for the Cairo Jazz Band, among others. She released a solo album on tape in the late 70s, but it didn't receive much buzz until being rereleased on the Habibi Funk label recently.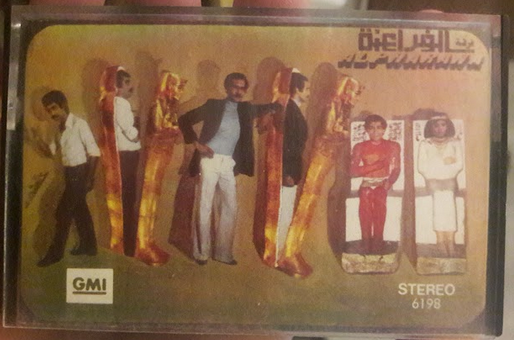 Habibi Funk/Funk Segment:
We Mesheet // Maha
Ayonha // Hamid Al Shaeri
Longa 79 // Al Massrieen
Habibi // Firzkat al Pharana
Hamid Al Shaeri is the father of Al Jeel, an Egyptian alternative to popular western music in the 70s. The genre is modeled after pop and rock and roll, with a dance focus. It's called "new wave" by many, not for its resemblance to the traditional New Wave, but for being a new wave of pop music in the country, taking over after Sha'abi. 
Modern Funk/whatever:
nefsif akli (my self with my head) // Lekhfa
Slaughterhouse // Invisible Hands
Jessica // Youssra El Hawary 
Electronic segment:
Halim El-Dabh – "Wire Recorder Piece" (1944) 
Fr3sh // Kareem Lotfy
Dareen
Halim El-Dabh was the father of electronic music in Egypt. Born in 1921, he was a composer, musician, and ethnomusicologist who made the first strictly electronic piece of music in the world with "Wire Recorder Piece" in 1944.  Drawing from recordings he made of a zar healing ceremony on the outskirts of Cairo, he used studio techniques to create a cavernous vortex of reverberated howls—as he has told journalist Maha ElNabawi in an interview with Egyptian news media Mada—to get at the "inner sound" of this ancient ritual, which uses music and chanting to draw out spirits from a possessed person.
Kareem Lotfy's "Fr3sh" is the subject of an ongoing lawsuit with Kanye West, who allegedly sampled the song without permission or credit on West's album, ye. 
This has been continental drift!