Continental Drift takes on Sunday Special!
This sunday special explores the music (and a little bit of history) of international sporting competitions! Find the spotify playlist here. All other songs are linked in this post. 
We're starting with the Olympics. The modern olympics governed by the International Olympic Committee began in 1896 in Athens, Greece. They are held every four years, alternating winter and summer olympics in 2 year periods. Until the 70s and 80s, when eastern bloc countries bent amateur rules, the olympics banned professional athletes outright- training was thought of as cheating. That's hard to imagine!
Over 200 teams (countries and territories) compete in the olympics each year. The next olympics are the 2024 summer olympics in Paris, France. The olympics are represented by 5 rings: red, yellow, green, blue, black. Every country has at least one of these colors in their flag.
We'll be starting our journey through the olympics in 1964 with the Tokyo summer olympics. These were the first olympics to be held in Asia, and the first games which excluded South Africa due to their apartheid policies. These were also the first olympics to be televised internationally without the need to ship reels overseas. 
Music critic Kuniharu Akiyma made a commposition entitled "environmental music for dining room of athlete's village in tokyo 1964" which, as the title indicates, was for the athlete's village dining room. In addition to this piece, Akiyama created another for the olympics, in the same style: music for resting. It follows after the first of such compositions, music for coffee house.   
But what is it? These are ambient pieces made entirely of the sounds of sanukite stones. The precursor began in early 1963 when Akiyama was asked to compose "Song of Stone" for a TV progam about Sanuki, Shikoku Island, which is known for granite quarrying. He is quoted, "I was deeply moved when I hit the natural stones of various sizes that had not been modified by artificial elements. Clear beautiful sounds with amazingly long sustain. Each stone had a different tone. Sharp and very powerful. To be honest, I never had thought that stones could have such a beautiful, strong and sharp tone."
In addition to composing these pieces, he also engineered stone speakers to play them. They were advertised as having a pure sound "because all vibration except for the paper speaker cone can be suppressed to the utmost limit by the weight of the stone."
1964
Japan:
Kuniharu Akiyama – Environmental Music for Dining Room of Athletes' Village in Tokyo Olympics 1964
Germany:
Helmut Zacharias Orchestra – Tokyo Melody – 1964 45rpm
The first official song of the Olympics was "Bienvenue à Montréal", performed by 15 year old René Simard for the 1976 Olympics in Montréal.
1976
Canada:
René Simard Bienvenue à Montréal 1976(first official song)
The winter olympics were first held in 1924 in France to showcase winter sports that logistically were not possible in the summer. Until 1994, the winter olympics were held in the same year as the summer olympics. Now, they are staggered. They are more expensive than the summer olympics, costing 1.3 million per athlete on average. In Sochi in 2014, that figure was 7.9 million. 
1988
Calgary, Canada:
Winter games // David Foster
Now we will fast forward 4 years to Barcelona. The 1992 games were the first since the end of the Cold War, and the first to feature South Africa after their 32 year ban due to Apartheid policies. The unified team, made up of former soviet republics, officially won with 45 gold and 112 overall medals. 
1992
Barcelona
Barcelona // Freddie Mercury
Free Your Mind // En Vogue
Anita Baker – How Fast, How Far 
Now we get to the 1996 centennial olympics, held right here in atlanta!  The summer olympics will not have been held in North America since until 2028, LA. 
 10, 320 athletes from 197 teams competed in 26 sports, and many of them stayed in the North Avenue apartments that are currently Georgia Tech student housing. The 1996 olympics opening ceremonies were the most watched (3.5 billion viewers) live event until 2022, when the state funeral of Queen Elizabeth overtook it. 
These olympics were the debut of volleyball, mountain biking, softball, lightweight rowing, women's swimming, women's fencing, team rhythmic gymnastics, and women's association football (soccer). The US won with 101 total medals, 44 gold, the first time since 1984. Notably, the 1996 olympics turned a profit. 
The 1996 Olympics were the first to broadcast the Olympic Theme, written by John Williams in 1984. It adds on to "Bugler's Dream," written in 1958 by Leo Arnaud.
1996
Atlanta:
The Olympic Spirit // John Williams, The Boston Pops Orchestra
Bugler's Dream and Olympic  Fanfare // John Williams, Leo Arnaud, The Boston Pops Orchestra
Reach // Gloria Estefan
Power of the Dream // Celine Dion
Mary J Blige – Everlasting Love (cover of chaka khan)
Taylor Swift's "Change" was included on 2008 AT&T Team USA soundtrack, as well as Sheryl Crow, Lady Antebellum, Luis Fonsi, etc. These were the most expensive olympics to date (40-44 billion dollars). 
Now we will shift in focus to FIFA. The FIFA world cup is the international soccer competition. The first tournament was held in 1930, and ever since in 4 year periods (except during world war II), in winter olympic years. The games involve a qualification phase, where for the 3 years leading up to the tournament countries play each other to determine who will go to the world cup. Brazil, who has 5 wins, is the only team to have played in every men's tournament. The 2022 world cup was held in Qatar, and an estimated 1.5 billion watched the final match where Argentina was crowned champions. The next tournament is to be held in the US, Canada, and Mexico in 2026. 
In the 1962 World Cup, Brazil beat Czechoslovakia 3-1 in Santiago to defend their title. The tournament was marred by violence between players on the pitch and a toxic atmosphere; it included the first-round match between Chile and Italy (2–0), which became known as the Battle of Santiago, one of a number of violent matches played throughout the tournament. It was the first World Cup in which the average number of goals per match was less than three (2.78), and this has since been repeated at every World Cup.
1962, Chile
Chile:
El Rock del Mundial // Los Ramblers, best selling single in chilean history
1966, England
World Cup Willie // Lonnie Donegon
England defeated West Germany 4-2.
All 15 African nations who entered the qualifying later boycotted the tournament in protest after FIFA, citing "competitive and logistical issues," ruled that there would be no direct qualification for any African team. The Jules Rimet trophy was stolen before the tournament, but was recovered by a dog named Pickles four months before the tournament began. This trophy was stolen again in 1983, never to be found. 
1994, The US
Gloryland – Daryl Hall (feat. Sounds Of Blackness)
Brazil wins 3-2 over Italy in penalty shoot out after game went 0-0 in regulation, the only world cup championship to be decided entirely by penalty kicks. 
1998, France
La Copa de la Vida // Ricky Martin
This was the longest world cup tournament, at 32 days. France eventually won 3-0 over brazil. It was also the subject of a terrorism plot from Al-Queda targeting the English football team.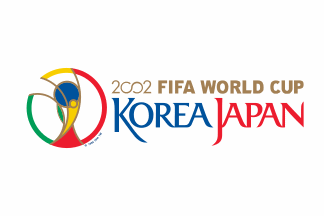 2002, South Korea and Japan
Let's Get Together Now~KOREA/JAPAN Ver.
This is the last Brazil victory, 2-0 over Germany. In the third place play-off match against South Korea, Turkey won 3–2 and scored the fastest goal in the FIFA World Cup history (10.8 seconds after kick-off).
2006, Germany
Hips Don't Lie // Shakira
Italy beat France 5-3 after regulation ended 1-1.  The 2006 World Cup is one of the most watched events in television history, with an esimated 26.29 billion views over the entire tournament. 
2010, South Africa
Official anthem:
Waka Waka (This Time for Africa) // Shakira
Coke advertising anthem:
Wavin' Flag // K'naan
Pepsi advertising anthem:
Oh Africa // Akon
Mascot anthem:
Game On // Pitbull, tkzee, and Dario G
Spain went 1-0 over the Netherlands, becoming the first European nation to win a World Cup hosted outside its home continent: all previous World Cups held outside Europe had been won by South American nations. 
This was also the first time that the hosts had been eliminated in the first stage. New Zealand, with three draws, were the only undefeated team in the tournament, but they were also eliminated in the group stage.
2022, Qatar
Tukoh Taka // Nicki Minaj, Maluma, Myriam Fares
The last two songs are for horse racing and the Masters.
Where the Turf Meets the Surf // Bing Crosby
This song is dedicated entirely to one racetrack — Del Mar Thoroughbred Club in San Diego, California, which Bing Crosby co-founded. It was written in 1938, one year after it opened. 
Augusta //  John Story
Thanks for tuning in!